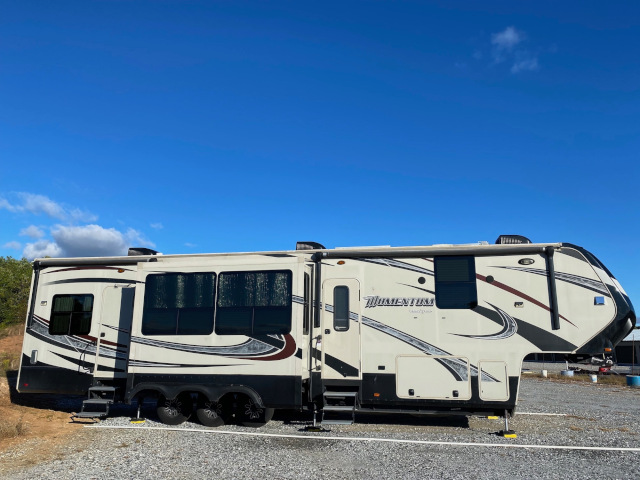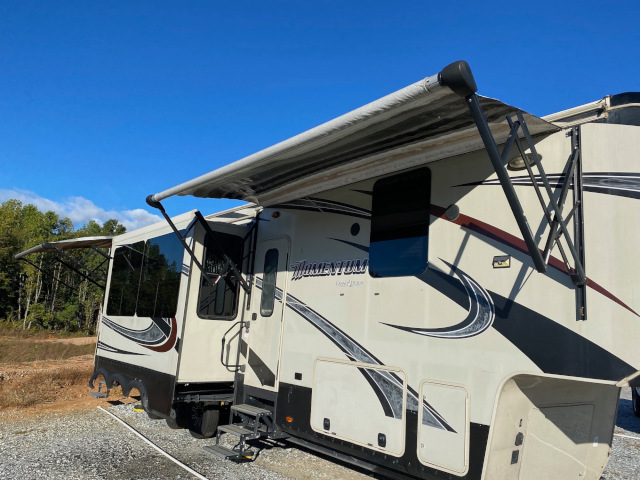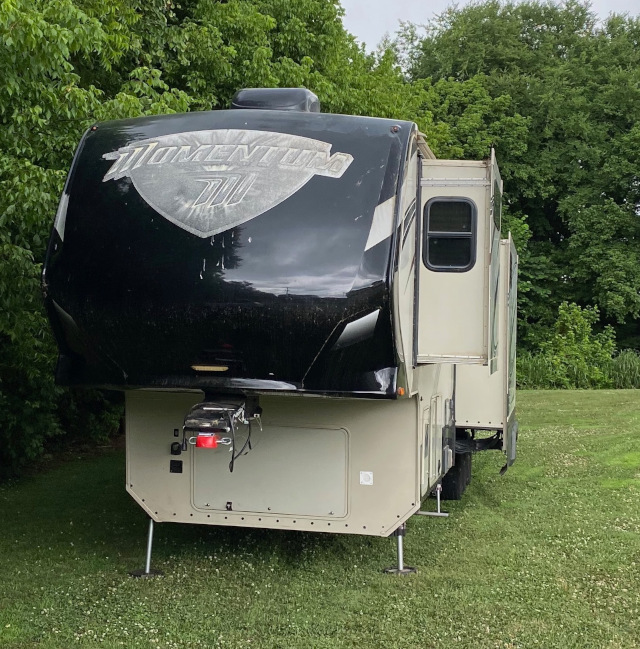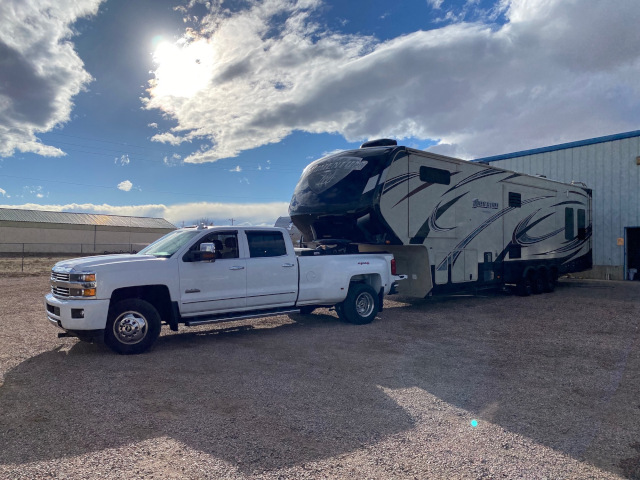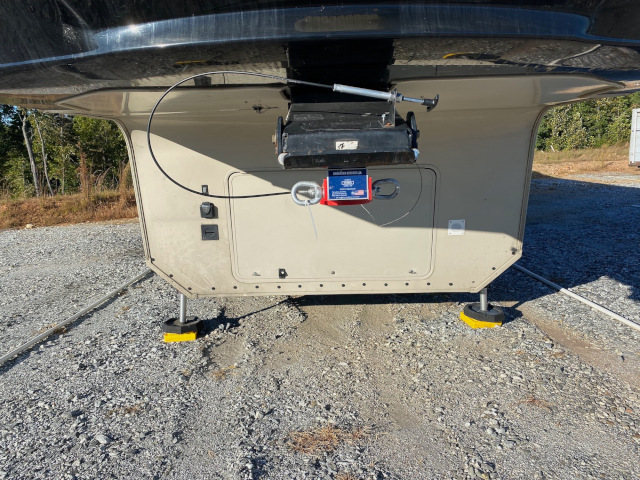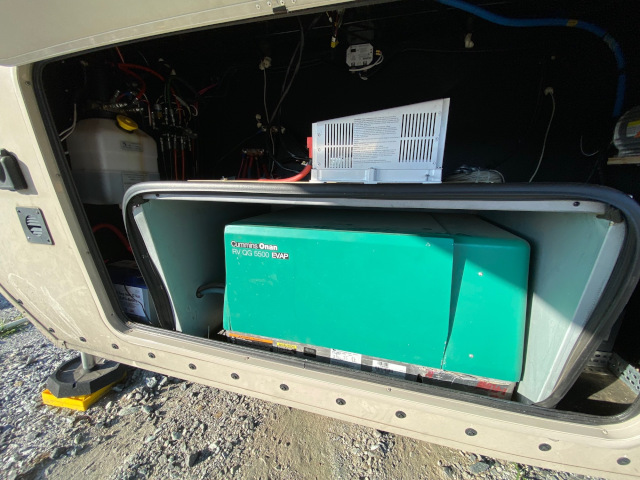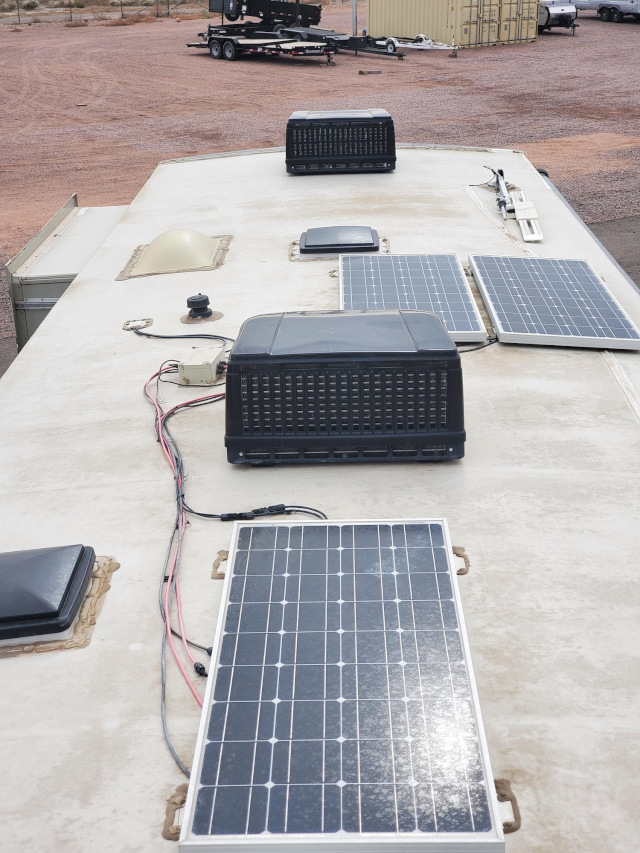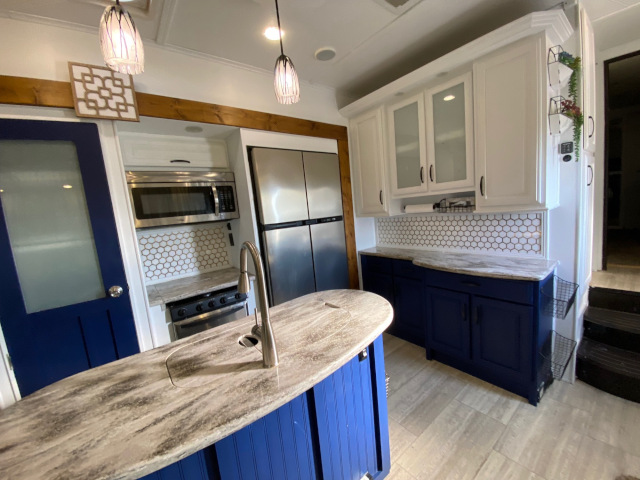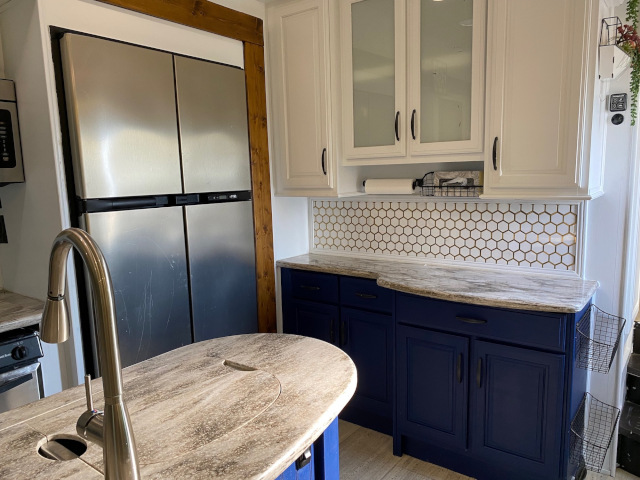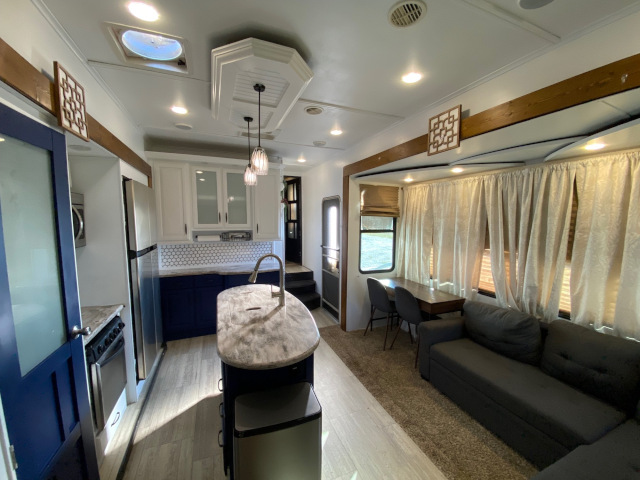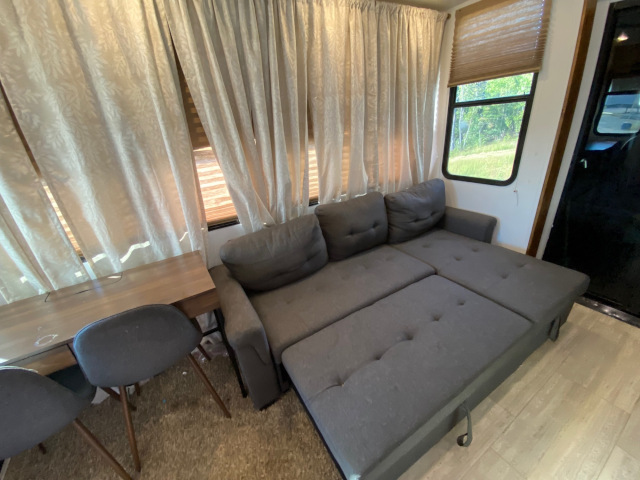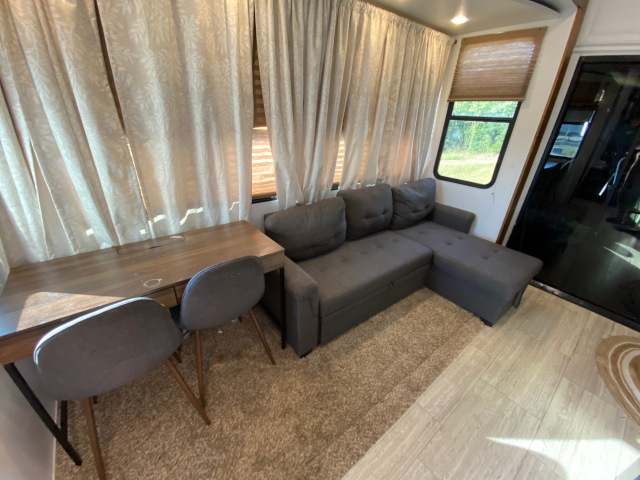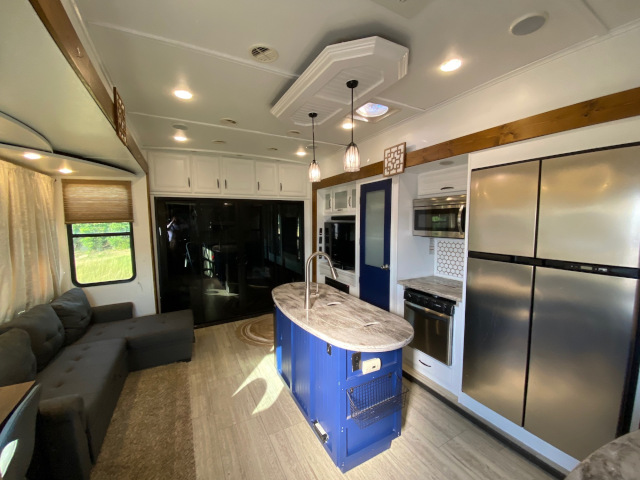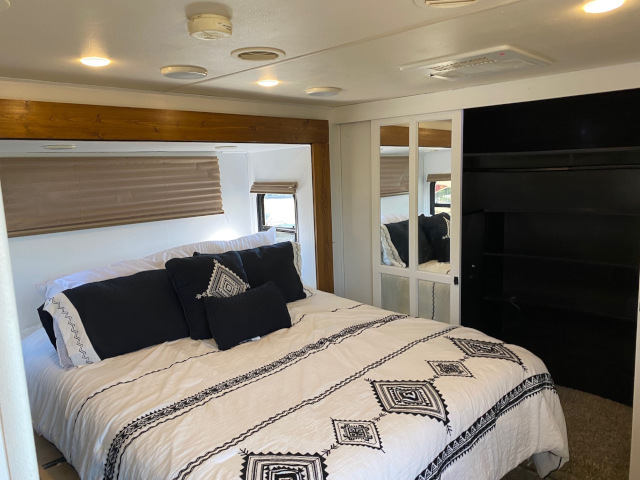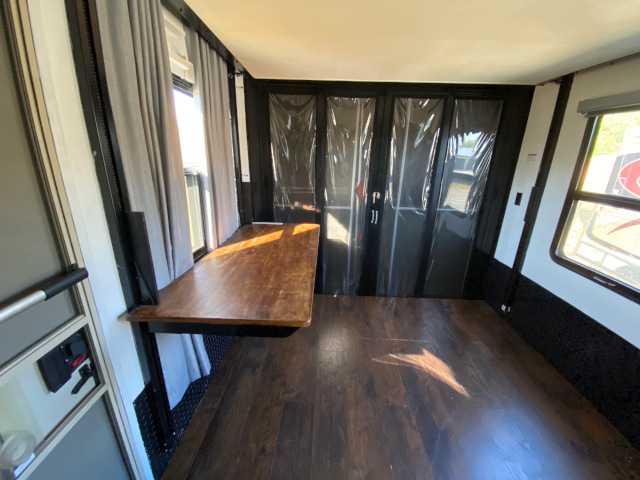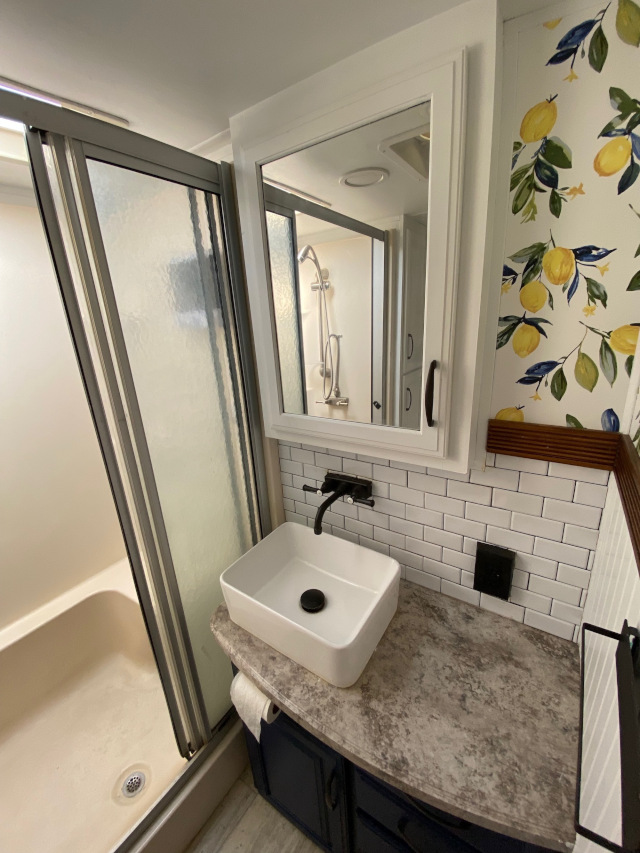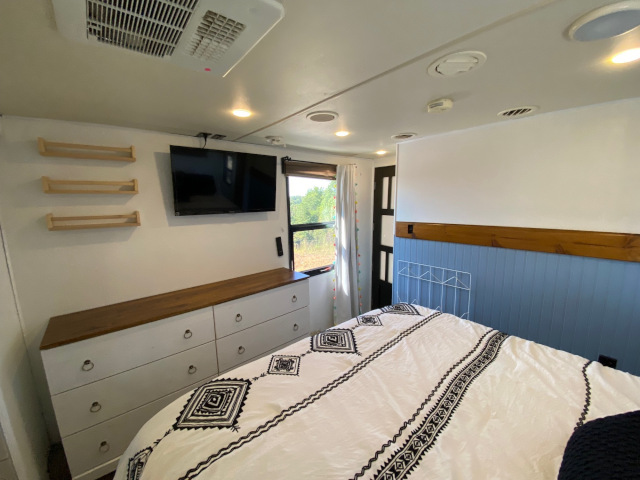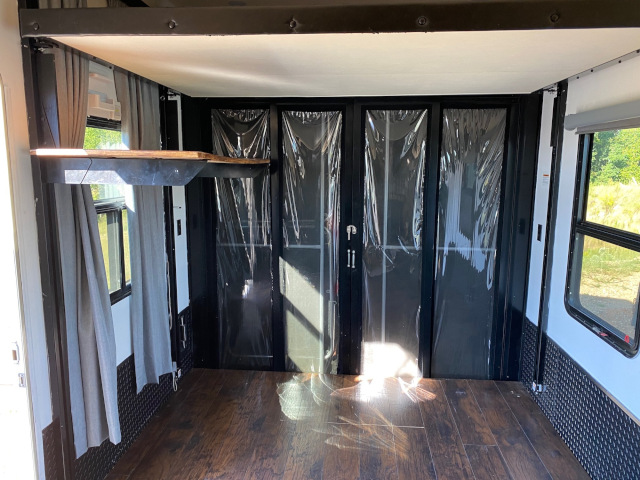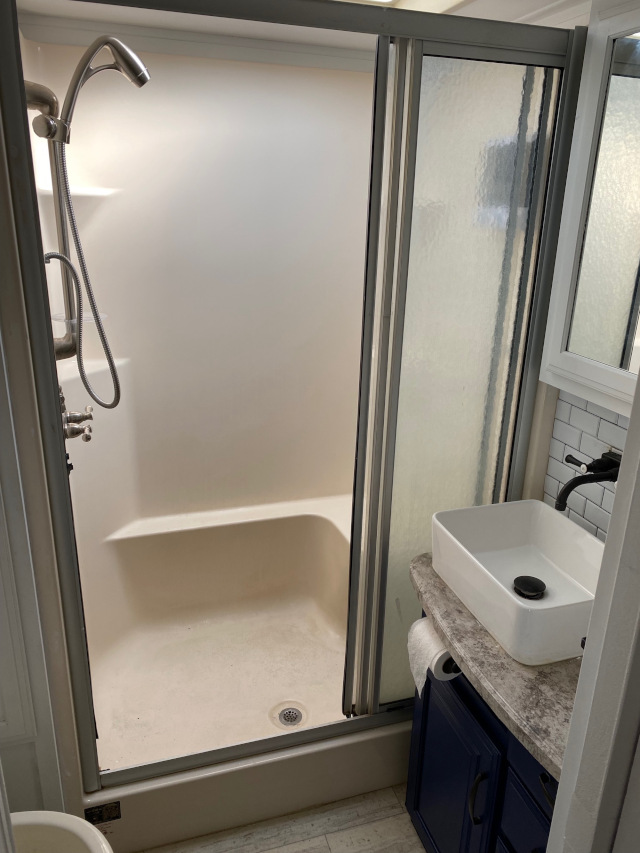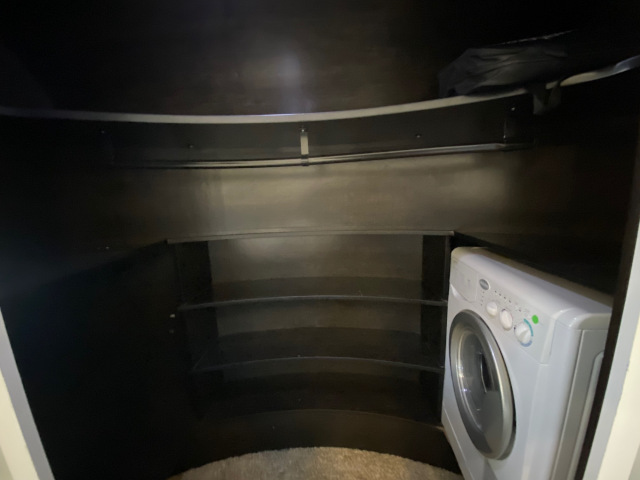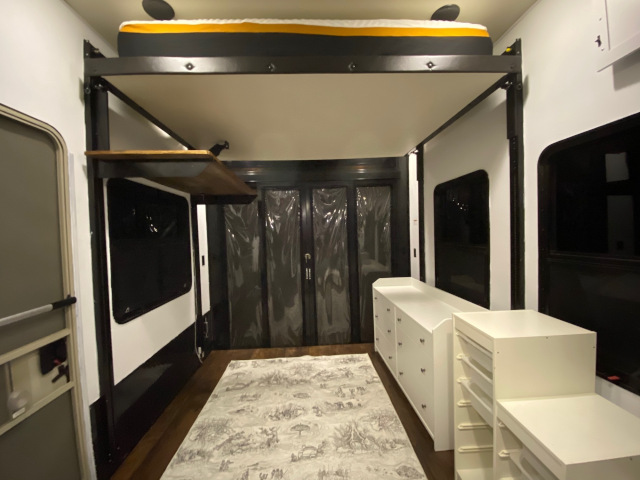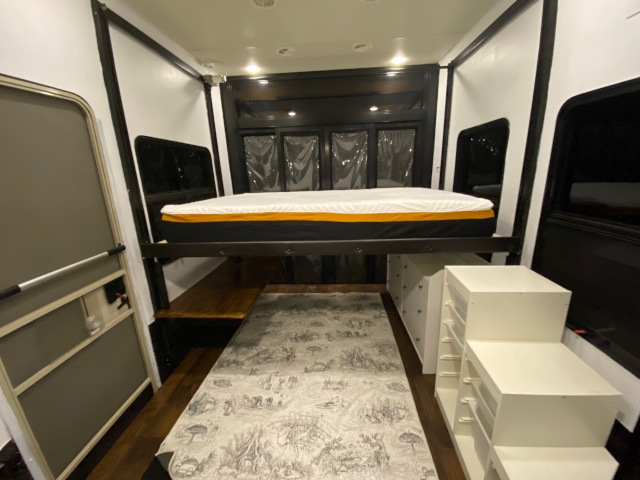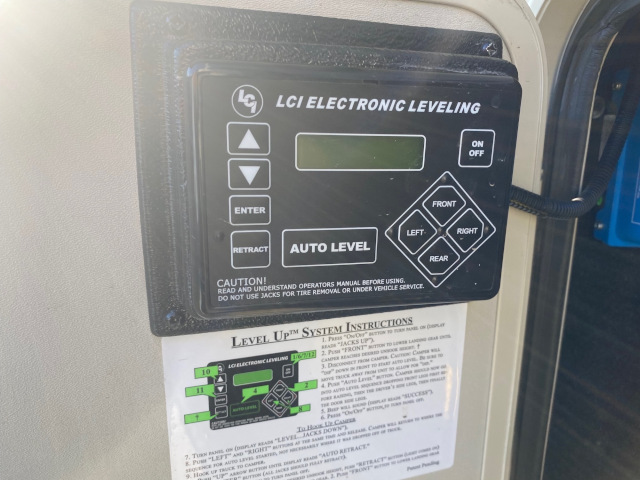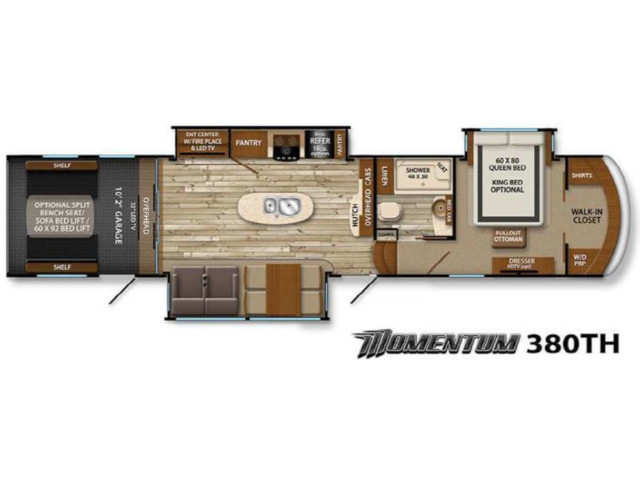 2015 Grand Design Momentum 380TH
Clarkesville, GA, 30523
Features:
Length: 42 ft.
Leveling Jacks: Yes
Slides: 3
Awnings: 3
Sleeps: 8
A/C Units: 3
Exterior: Beige
Interior: White
Description:
Remodeled and Upgraded 2015 Grand Design 380TH w/Office
*Must See Pictures*
Completely renovated interior to make it feel like home.
Converted garage to office making full-time remote working effortless.
Standard Features:
Residential Gas/Electric Fridge
3 - A/C units
One Touch Auto Leveling System
Massive Double Slide Living Room
Queen Bed in Master
Tons of Storage
HappiJac Bed in Garage/Office
Central Vac System
Washer/Dryer Combo
5500 Onan Gasoline Generator
Fuel Station for Toys
Rail-enclosed Back Patio
124 gal. fresh water
100 gal. gray and 62 gal. black tanks
Additional Upgrades:
4 - 100Ah Battle Born Lithium Batteries
3000w Inverter Charger
3 - 100w Solar Panels with space for more
Hydraulic Brakes
Victron Solar Charge Controller and Battery Monitor to monitor from your phone
Pepwave LTE Router and Mobile Mark multi-band antenna to give you solid Internet
everywhere
Onboard EMS to monitor and protect electrical systems
RV SnapPads on the hyrdaulic jacks
Upgraded Bathroom Sink
Included living room couch and desk
Added larger dresser in master bedroom
MORryde RV Cargo Slide to make getting stuff out of the basement a breeze
Andersen Ultimate Connection Hitch for a smooth and secure ride
Our family of 5 full-timed in this rig comfortably. I was able to work remotely with
daily Zoom calls without Internet issue even while others in family streamed TV.
Selling because we decided to settle down and this rig is just too nice to keep in
storage and only take out occasionally. It's ready for another family to enjoy and
make their memories in today.
I still have all the original furniture and trim if you ever want to turn it back to
it's original state.
Note: 2015 Grand Design MOMENTUM 380TH specifications are provided by the manufacturer and may not reflect this 2015 Grand Design MOMENTUM 380TH Toy Hauler RV for sale.
Rear Wheel Diameter:16
Wheels Composition:Aluminum
Front Brake Type:Not Applicable
Number Of Axles:3
Rear Brake Type:Electric Drum
Rear Tire Aspect Ratio:80
Rear Tire ( Full Spec):235/80R16 LRE
Rear Tire Width:235
GVWR (Kgs):8845.2
GVWR (Lbs):19500
Hitch Weight (Kgs):1338.1
Hitch Weight (Lbs):2950
Payload Capacity (Kgs):1905.1
Payload Capacity (Lbs):4200
Dry Weight (Kg):7030.8
Dry Weight (Lbs):15500
Max Sleeping Count:6
Power Retractable Slideout:Yes
Refrigerator Size:Full-Size
Structure Warranty ( Months):36
Number Of Queen Size Beds:1
Exterior Patio / Deck Location:Rear
Interior Wood Finish - Solitude Interior Decor:Yes
Number Of Bathrooms:1
Number Of Convertible / Sofa Beds:1
TV Antenna Prewiring:Yes
Battery Converter Amps:75
Cable Prewiring:Yes
Master Bedroom Location:Front
Refrigerator Power Mode:Electric / Propane
Primary Color:Tan
Wallpaper - Solitude Interior Decor:Yes
Master Bedroom Flooring Type:Carpet
Master Bedroom Shades / Curtains:Yes
Number Of Sofas:2
Oven Depth (In):21
Overhead Fan:Yes
Spare Tire Location:Exterior Mounted
Air Conditioning Prewiring:Yes
MSRP + Destination:78438
Master Bedroom Mirror Doors:Yes
Number Of King Size Beds:1
MSRP:78438
Oven Depth (Mm):533.4
Heat Prewiring:Yes
Heater ( BTUs):40000
Kitchen Location:Center
Living Area Location:Center
Number Of Doors:2
Number Of Televisions:2
Phone Prewiring:No
Toilet Type:Porcelain
Bathroom Location:Center
Currency:US Dollars
Material:Leather
Number Of Convertible / Sofa Beds - Happi- Jac Bed / Dinette Lift System:1
Number Of Slideouts:3
Sidewall Construction:Fiberglass
Heater Type:Automatic
Kitchen / Living Area Flooring Type:Carpet / Vinyl
Number Of Bunk Beds:0
Number Of Recliner / Rockers:2
Sofa Material:Leather
Satellite Prewiring:Yes
Surround Sound:Yes
Wallpaper:Yes
Bunkhouse:No
Layout:Oven / Stove
Number Of Full Size Beds:0
Number Of Radios:2
Number Of Oven Burners:3
Door Type:Plastic / Glass
Full Size Master Bedroom Closet:Yes
Speaker Location(S):Interior / Exterior
Basic Warranty ( Months):12
Bathroom Flooring Type:Vinyl
Battery Power Converter:Yes
Cargo Area Rear Door Style:Ramp Door
Leveling Jack Type:Front Power / Rear Power
Number Of Televisions - Bedroom HDTV:1
Washer / Dryer Prewiring:Yes
Body Material:Aluminum
Number Of Discs:2
Number Of Double Beds:0
Secondary Color:Black
Sliding Glass Door:No
Interior Wood Finish:Yes
Kitchen Table Configuration:Chairs
Master Bedroom Door Style:Conventional Door
Number Of Queen Size Beds - Happi- Jac Bed / Dinette Lift System:1
Water Heater Tank Bypass:Yes
Air Conditioning ( BTUs) - Garage Air Conditioner:13500
Air Conditioning Type:Automatic
Cargo Area Auxiliary Gas Tank Capacity (Lbs):227.1
Number Of Fresh Water Holding Tanks:1
Total Fresh Water Tank Capacity (L):469.4
Total Gray Water Tank Capacity (Gal):100
Air Conditioning ( BTUs):15000
Total Black Water Tank Capacity (Gal):62
Total Black Water Tank Capacity (L):234.7
Water Heater Tank Capacity (G):12
Water Heater Tank Capacity (L):45.4
Air Conditioning Type - Bedroom AC:Automatic
Number Of Black Water Holding Tanks:1
Number Of Gray Water Holding Tanks:1
Total Gray Water Tank Capacity (L):378.5
Total Propane Tank Capacity (Gal):14.2
Water Heater Pump Power Mode:Electrical / Propane
Air Conditioning ( BTUs) - Bedroom AC:15000
Air Conditioning Type - Garage Air Conditioner:Automatic
Cargo Area Auxiliary Gas Tank Capacity (Gal):60
Number Of Propane Tanks:2
Total Fresh Water Tank Capacity (Gal):124
Total Propane Tank Capacity (Lbs):60
Length (Ft/In):2
Length (M):12.9
Number Of Awnings - Rear Awning:1
Width (Mm):2565.4
Cargo Area Length (Mm):3098.8
Height (Mm):4089.4
Interior Height (In):103
Cargo Area Width (Mm):2438.4
Height (In):161
Length (In):506
Length (Mm):12900
Number Of Awnings:2
Awning Length (Ft) - Rear Awning:12
Cargo Area Flooring Type:Vinyl
Cargo Area Length (In):122
Power Retractable Awning:Yes
Width (In):101
Screened Room:No
Awning Length (Ft):16
Awning Length (M) - Rear Awning:3.7
Interior Height (Mm):2616.2
Length (Ft/Ft):42
Power Retractable Awning - Rear Awning:Yes
Awning Length (M):4.9
Cargo Area Width (In):96
Length (Ft):42.17