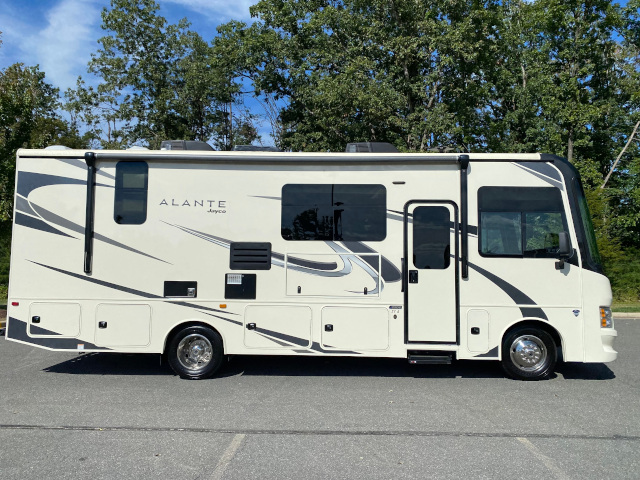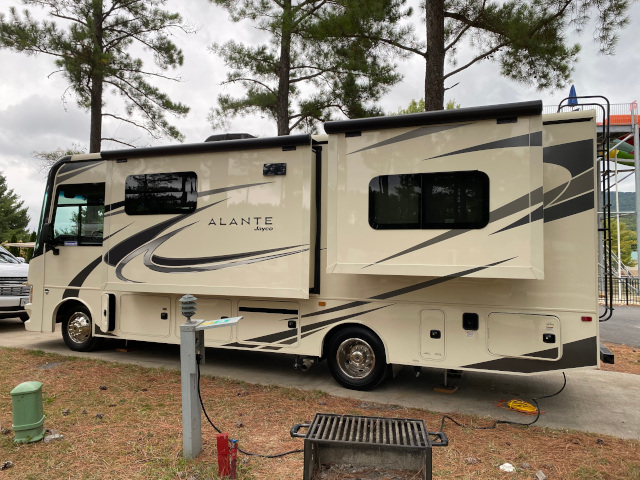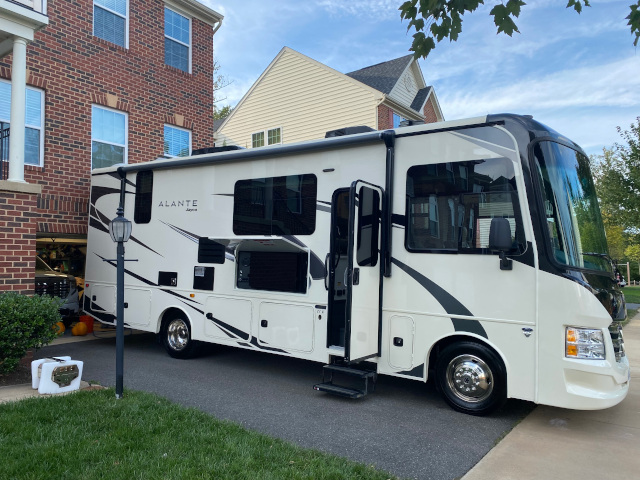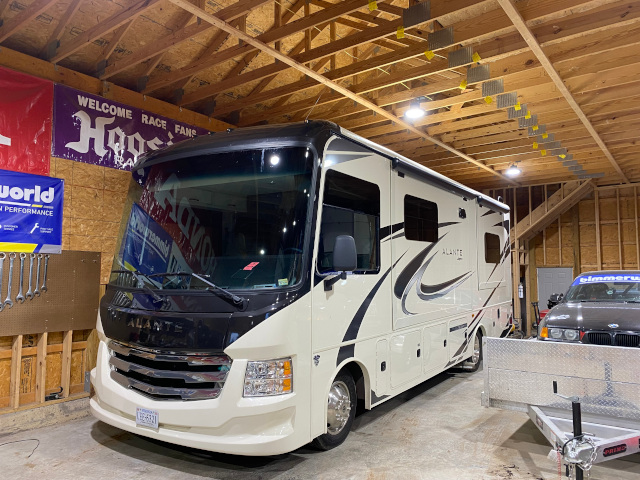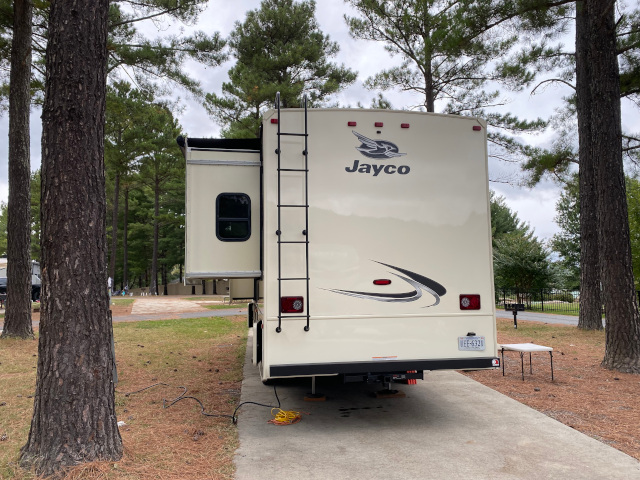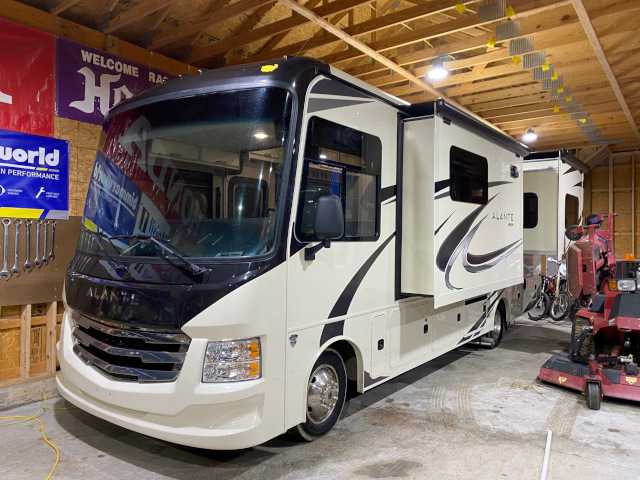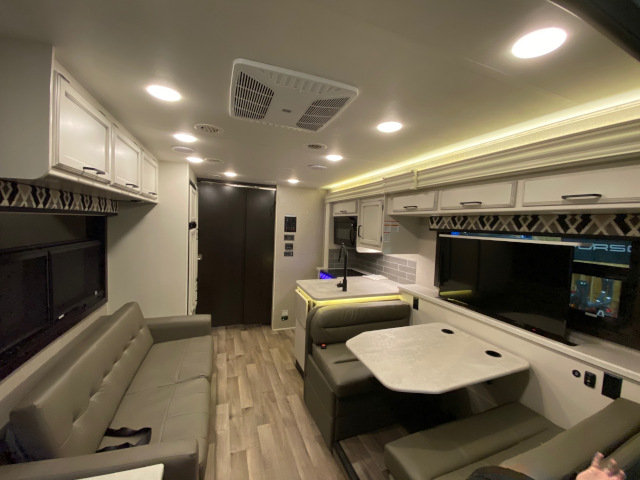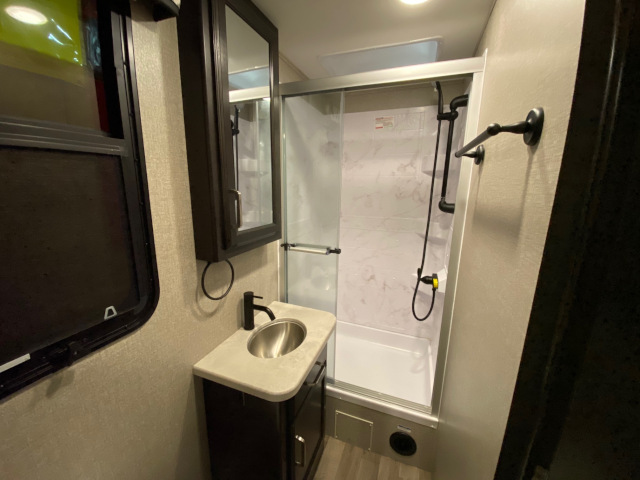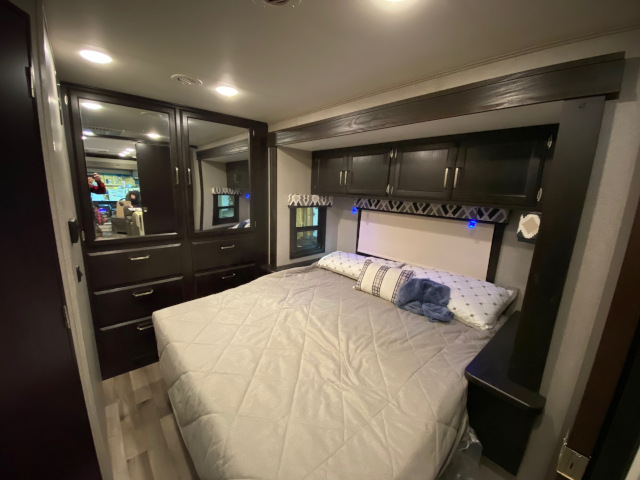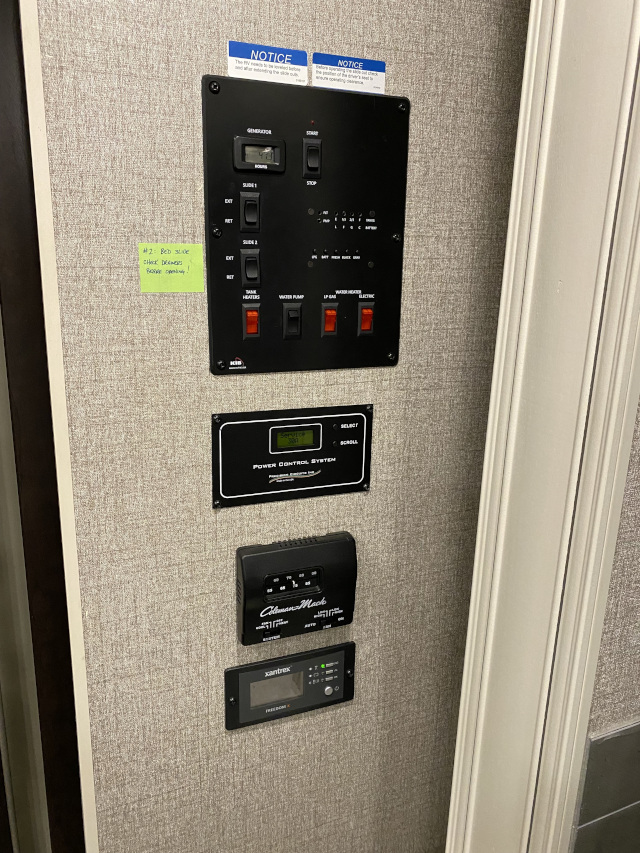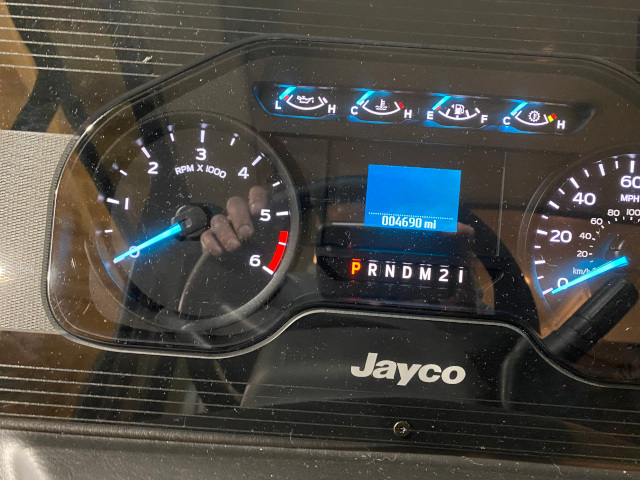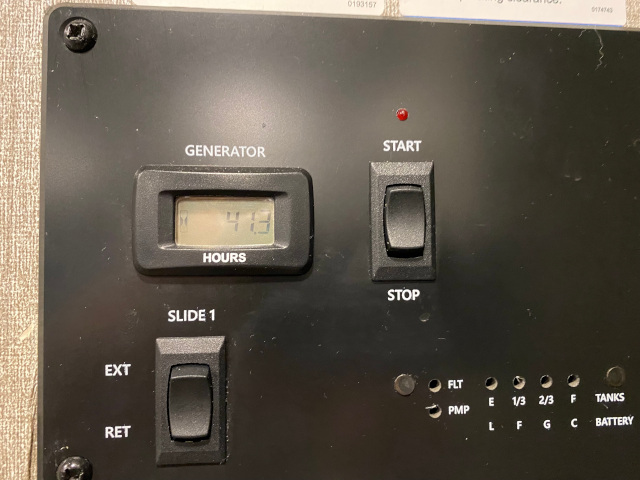 2021 Jayco Alante 27A
Gainesville, VA, 20155
Features:
Length: 27 ft.
Mileage: 4,690
Engine: V8
Slides: 2
Awnings: 1
Sleeps: 6
A/C Units: 2
Water Capacity: 72 gal.
Exterior: White
Interior: White
Description:
100% Garage Kept! - Excellent Condition - 1st Oil Change completed at 2500 miles. Never Rented and rarely used by the owners. Class A with the new Ford F53 Chassis and Godzilla V8! Farm House Style White Interior Cabinetry with black fixtures and Gray interior seating. 3 TV's included, one in the "slide up" cabin kitchen area, one in the bedroom, and one outside! Sleeps 6+ and the main bedroom is amazing! Plenty of outlets to charge devices, large queen/king bed, tons of storage, and sliding private closing door. 2 Slide-Outs which are both passenger side and accommodate the bedroom and cabin kitchen living area.
Factory Specs:
Note: 2021 Jayco ALANTE 27A specifications are provided by the manufacturer and may not reflect this 2021 Jayco ALANTE 27A RV for sale.
Front Brake Type:Hydraulic Disc
Rear Brake Type:Hydraulic Disc
Washer / Dryer Prewiring:No
Air Conditioning Prewiring:Yes
Cable Prewiring:Yes
Heat Prewiring:Yes
Phone Prewiring:No
Satellite Prewiring:Yes
TV Antenna Prewiring:Yes
Front Tire Width:245
Front Wheel Diameter:19.5
Front Wheel Width (In):6.75
Number Of Seats:2
Rear Tire Speed Rating:G
Rear Wheel Diameter:19.5
Wheels Composition:Steel
Rear Tire Width:245
Swivel Seats:Yes
Front Tire Aspect Ratio:70
Power Adjustable Seat:Yes
Rear Tire ( Full Spec):245/70R 19.5G
Rear Wheel Width (In):6.75
Reclining Seats:Yes
Seat Armrests:Yes
Seat Material:Vinyl
Front Tire ( Full Spec):245/70R 19.5G
Front Tire Speed Rating:G
Number Of Axles:1
Number Of Rows:1
Rear Tire Aspect Ratio:70
Seat Type:Bucket
GVWR (Lbs):18000
Rear Hitch Type:Receiver
Towing Capacity (Kgs):2268
Towing Capacity (Lbs):5000
GVWR (Kgs):8164.8
Carburetion Type:Fuel Injected
Chassis Brand:Ford
Chassis Model:F-Series Super Duty
Fuel Type:Gas
Supercharged:No
Horsepower (Bhp):320
Torque RPM:3000
Cylinders:10
Displacement (L):6.8
Engine Type:V10
Fuel Requirements:Regular
Horsepower (K W):238.8
Torque ( Nm):623.7
Turbocharged:No
Engine Brand Name:Triton®
Horsepower RPM:3900
Torque ( Ft Lbs):460
Heater ( BTUs):30000
Kitchen / Living Area Flooring Type:Vinyl
Number Of Doors:1
Number Of King Size Beds:1
Reclining Sofa:No
Living Area Location:Front
MSRP + Destination:128716
Master Bedroom Door Style:Full Sliding Door
Number Of Emergency Exits:1
Number Of Sofas:1
Sliding Glass Door:No
Battery Power Converter:Yes
Layout:Oven / Stove
Metallic:No
GPS Brand:Garmin®
Overhead Fan:Yes
Power Retractable Slideout:Yes
Structure Warranty ( Miles):24000
Basic Warranty ( Miles):24000
Master Bedroom Mirror Doors:Yes
Number Of Oven Burners:3
Leveling Jack Type:Front Power / Rear Power
MSRP:128716
Oven Size ( BTU):9000
Chassis Warranty ( Months):36
Currency:US Dollars
Kitchen Location:Center
Number Of Convertible / Sofa Beds:2
Speaker Location(S):Interior / Exterior
Door Type:Plastic / Glass
Master Bedroom Flooring Type:Vinyl
Number Of Radios:2
Number Of Televisions:1
Paint Swatch File Name:Jayco/White_Exterior_Color.gif
Powertrain Warranty ( Miles):60000
Master Bedroom Location:Rear
Number Of Full Size Beds:1
Refrigerator Power Mode:Electric / Propane
Satellite:No
Body Material:Aluminum
Number Of Queen Size Beds:0
Number Of Slideouts:2
Powertrain Warranty ( Months):60
Roof Warranty ( Years):12
Bathroom Flooring Type:Vinyl
Number Of Bathrooms:1
Sidewall Construction:Fiberglass
Wallpaper:Yes
Bathroom Location:Rear
Bunkhouse:No
Chassis Warranty ( Miles):36000
Heater Type:Automatic
Primary Color:White
Structure Warranty ( Months):36
Kitchen Table Configuration:Bench Seats
Number Of Recliner / Rockers:0
Refrigerator Size:Full-Size
Sofa Material:Vinyl
Toilet Type:Plastic
Number Of Discs:1
Number Of Double Beds:0
Basic Warranty ( Months):24
Full Size Master Bedroom Closet:Yes
Interior Wood Finish:Yes
Master Bedroom Shades / Curtains:Yes
Max Sleeping Count:8
Number Of Bunk Beds:0
Air Conditioning ( BTUs):22000
Fuel Capacity (Gal):80
Fuel Capacity (L):302.8
Total Black Water Tank Capacity (Gal):49
Total Propane Tank Capacity (Lbs):56
Total Gray Water Tank Capacity (L):189.3
Total Propane Tank Capacity (Gal):16.5
Air Conditioning Type:Automatic
Number Of Gray Water Holding Tanks:1
Storage Capacity (Cuft):78
Total Black Water Tank Capacity (L):185.5
Total Fresh Water Tank Capacity (Gal):72
Total Fresh Water Tank Capacity (L):272.5
Water Heater Pump Power Mode:Electrical / Propane
Water Heater Tank Bypass:Yes
Number Of Black Water Holding Tanks:1
Storage Capacity (Gal):501.4
Total Gray Water Tank Capacity (Gal):50
Number Of Fresh Water Holding Tanks:1
Number Of Propane Tanks:1
Storage Capacity (L):2208.6
Water Heater Tank Capacity (G):6
Water Heater Tank Capacity (L):22.7
Wheelbase (In):190
Width (Mm):2565.4
Awning Length (Ft):18
Length (Ft):29.92
Number Of Awnings:1
Interior Height (In):84
Width (In):101
Length (Mm):9100
Power Retractable Awning:Yes
Screened Room:No
Height (Mm):3784.6
Length (In):359
Length (M):9.1
Length (Ft/Ft):29
Length (Ft/In):11
Wheelbase (Mm):4826
Awning Length (M):5.5
Height (In):149
Interior Height (Mm):2133.6